CookingAddic The day before I jetted off to the Midwest, I made up a big batch of this
Tropical Popcorn Snack Mix
to take along with me. Because traveling is hard and stressful enough as it is. I don't need to throw feelings of extreme hunger into the mix. And the stuff that's available to eat at most airports generally isn't the healthiest. My motto: never leave home without food and water.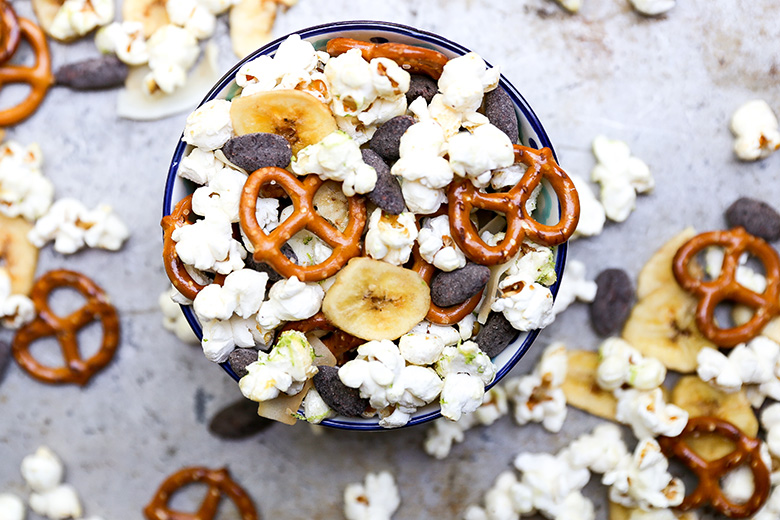 Making your own snack mix
at home is a serious must-do. Because not only do you have the power to control the overall levels of salt, fat and sugar in your recipe. But you also get to make sure you've got all your favorite ingredients represented. Personally, I find that store-bought snack mixes never have enough chocolate for my taste. So I made sure to throw in enough

Blue Diamond
Dark Chocolate Oven Roasted Almonds
to satisfy my cravings. Oh and don't skip the lime zest here. It totally makes this Tropical Popcorn Snack Mix pop!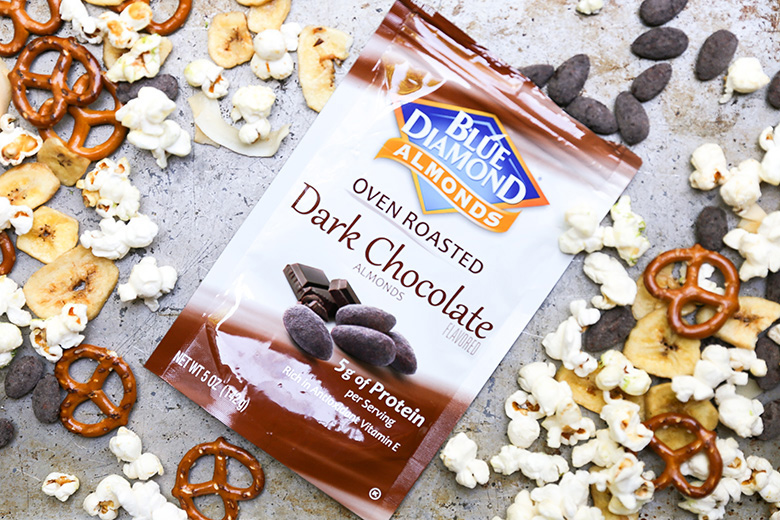 Ingredients
2 tablespoons coconut oil

1/2 cup yellow corn kernels

2 tablespoons granulated sugar

1/2 tsp. salt

Zest from 1 lime

2 cups pretzel twists

2 cups dried banana chips

1 cup baked coconut chips

1 (5 ounce) package Dark Chocolate Blue Diamond Almonds
Instructions
Heat the coconut oil in a large pot over medium-high heat. Add 3-4 corn kernels, cover the pot and listen for them to pop. Once they have popped, quickly and carefully add the remaining 1/2 cup of corn kernels to the pot and sprinkle the tops with the granulated sugar. Immediately cover the pot and reduce the heat to medium-low. Shake the pot back and forth over the heat, making sure to hold down the lid, continuing to do so until the popping has slowed down considerably. Remove the pot from the heat.

Carefully remove the lid from the pot and transfer the popcorn into a large bowl. Add the salt and the lime zest, tossing the popcorn as you sprinkle it in so it gets evenly distributed.

Once the popcorn has mostly cooled, stir in the pretzel twists, banana chips, coconut chips and almonds. Serve and enjoy.

This popcorn snack mix is best when enjoyed the day that it's made, but it can be stored in an airtight container at room temperature for up to two days.