CookingAddic This Salsa Chicken recipe is chicken breasts covered in homemade salsa and served over black beans and corn. It's an easy and healthy dinner that only uses one pan!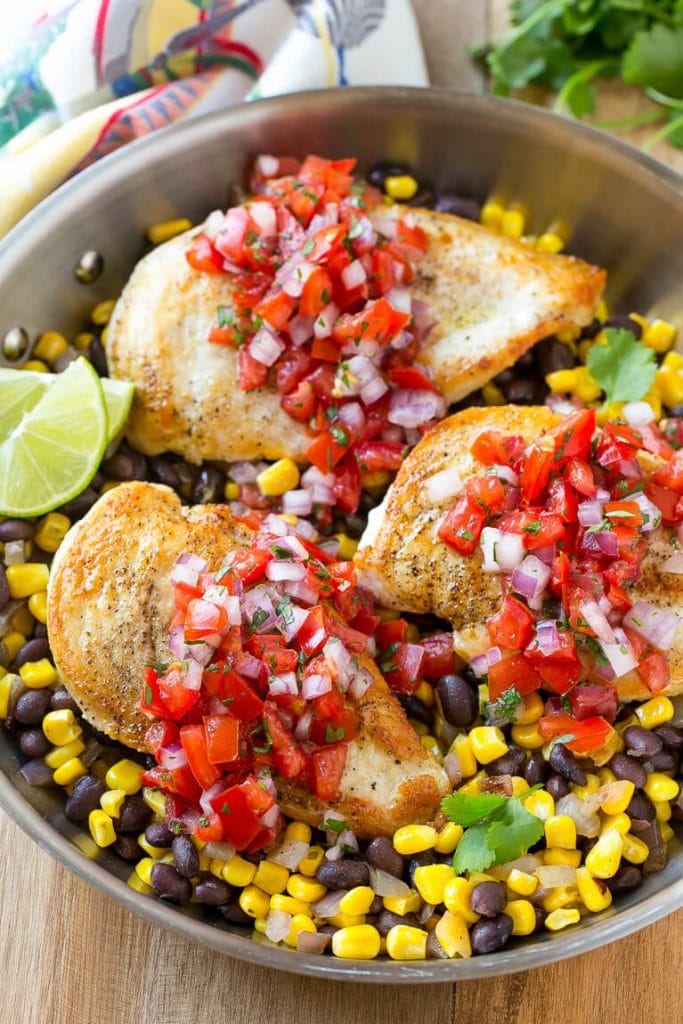 The first step in this recipe is to cook your chicken. I prefer to use thin cut chicken breasts, they cook much quicker and more evenly that those monster sized chicken breasts that some stores sell. While the chicken cooks, make your salsa. Now, if you're in a hurry, you can most definitely use a pre-made salsa or pico de gallo from the grocery store. But homemade salsa only takes a few minutes to make, and it really does taste fresher than store bought.
After the chicken cooks, throw some black beans, frozen corn and red onion in the pan. After it's all cooked, put the chicken back in the pan, spoon the salsa over the top and you've got an amazing dinner! Two of my kids like salsa, one does not, so I just serve her a plain chicken breast along with the corn and beans.
You can serve this salsa chicken as is, or sometimes I cut the cooked chicken into strips and serve up a side of warm tortillas and shredded cheese for people to make tacos with. Regardless of how you serve it, it's a healthy and easy dinner you can feel good about feeding to your family!
Ingredients
4

boneless skinless chicken breasts

thin cut works best

1

tablespoon

olive oil

divided use

salt and pepper to taste

1/4

cup

minced red onion

1 1/2

cups

frozen corn kernels

1/2

teaspoon

minced garlic

1

15-ounce can

black beans, drained and rinsed

2

teaspoons

lime juice

optional garnishes: lime wedges and cilantro leaves
For the salsa:

1 1/2

cups

tomatoes, seeded and diced

1/4

cup

minced red onion

1/4

cup

chopped cilantro leaves

the juice of one lime

salt to taste
Instructions
Heat 2 teaspoons of the oil in a large pan over medium high heat. Season the chicken breasts to taste with salt and pepper.

Place the chicken in the pan and cook for 4-5 minutes on each side, or until golden brown and cooked through.

While the chicken is cooking, make the salsa. In a small bowl combine the tomatoes, onion, cilantro, lime juice and salt. Mix gently and set aside for later use.

Remove the chicken from the pan; place on a plate and cover with foil.

Add the remaining teaspoon of oil to the pan and add the red onion. Cook for 3-4 minutes or until onion is tender. Add the garlic and cook for an additional 30 seconds.

Stir in the black beans and corn. Cook for 3-4 minutes or until corn is heated through. Add salt and pepper to taste. Turn off heat and stir in lime juice.

Return the chicken to the pan; place on top of the corn and bean mixture. Spoon reserved salsa over the chicken and serve. Garnish with lime wedges and cilantro leaves if desired.