CookingAddic
This recipe for one pot Italian chicken cacciatore is a classic dish made with braised chicken and an assortment of vegetables, all cooked together in a flavorful tomato sauce for an easy dinner with less dishes at the end.
Italian Chicken Cacciatore
This dish is made even easier by a few tricks and shortcuts. I like to use Hunt's Tomatoes with Basil, Garlic and Oregano, this variety adds a ton of flavor without any extra work.
This Italian chicken cacciatore recipe starts by cooking the chicken and vegetables on the stove. After everything is browned and caramelized the Hunt's tomatoes go into the pan and everything goes into the oven to bake to perfection. I used bone-in, skin-on chicken thighs here because I think they have the most flavor, but you could substitute boneless skinless thighs or even breasts if you prefer.
1 tablespoon olive oil, divided use

4 bone-in skin-on chicken thighs (can substitute boneless skinless chicken thighs or chicken breasts)

1 and ½ cups thinly sliced bell peppers (I used both red and green)

1 cup thinly sliced onion

1 cup sliced mushrooms

½ cup black olives, pitted and halved

1 14.5 ounce can of Hunt's Diced Tomatoes, Basil, Garlic & Oregano Flavor (undrained)

salt and pepper to taste.

Optional garnish: fresh basil leaves
Preheat the oven to 375 degrees,

In a large deep pan heat 2 teaspoons of olive over medium high heat. Season the chicken generously on both sides with salt and pepper.

Place the chicken, skin side down in the pan and cook for 5-6 minutes or until deep golden brown.

Flip the chicken and cook on the other side until browned, 5-6 minutes.

Remove the chicken from the pan and place on a plate.

Add the remaining teaspoon of olive oil to the pan along with the onions, peppers and mushrooms.

Cook for 7-9 minutes or until vegetables have softened and are starting to brown. Season the vegetables with salt and pepper.

Add the can of tomatoes and olives to the pan, stir to combine.

Place the chicken back in the pan on top of the tomato-vegetable mixture. Spoon some of the tomato mixture over the chicken.

Cover the pan and put it in the oven. Bake for 35 minutes or until chicken is done.

Remove the pan from the oven and serve, garnished with basil leaves if desired.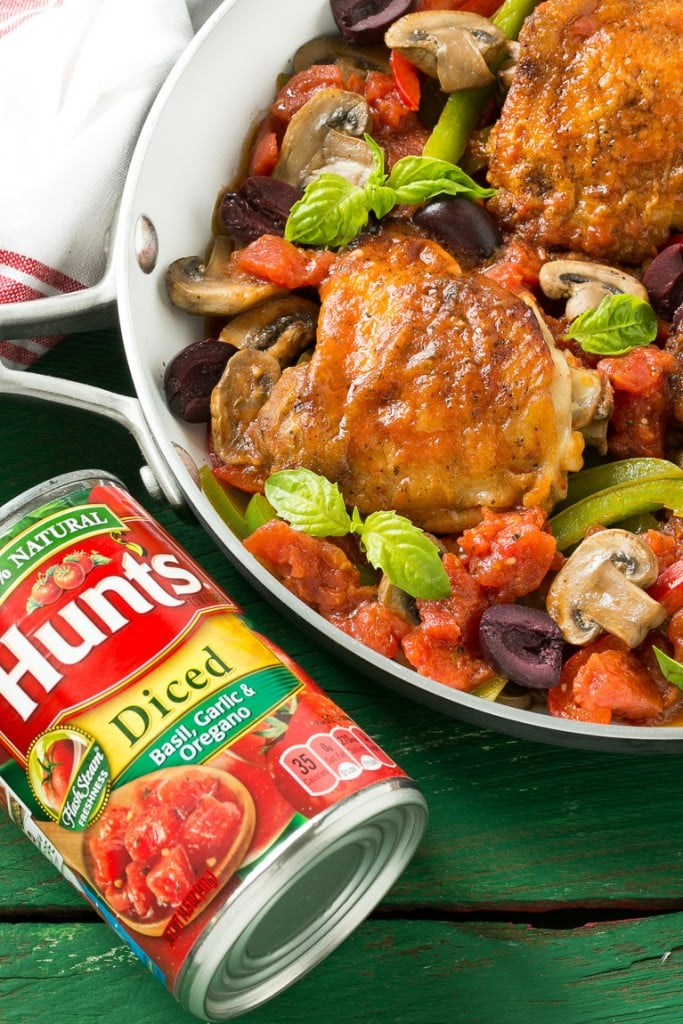 Italian Chicken Cacciatore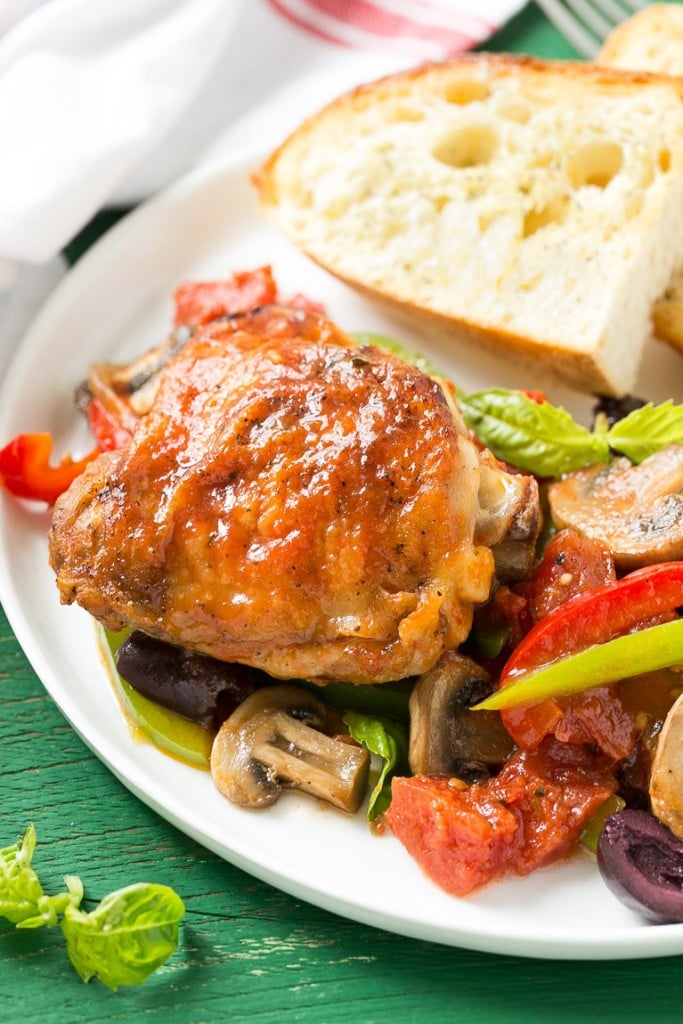 Italian Chicken Cacciatore