CookingAddic This Grilled London Broil is juicy and flavorful and cooks in just a matter of minutes. Making shallow cuts on each side of the meat helps it cook up just right and lets the flavor of the marinade really get into the meat.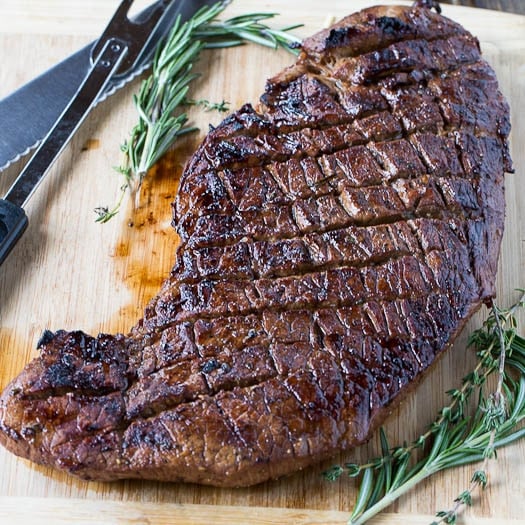 The London Broil stays on the grill for just a short time since it should be served medium rare for tenderness. The meat is flipped over every minute to ensure it cooks evenly.
You won't taste more flavorful London Broil than this!
Serve with steak sauce or even better, horseradish sauce, for a special, but economical family supper.
1 (1½ to 2-pound) London Broil (should be about 1½ inches thick)

½ cup soy sauce

2 tablespoons balsamic vinegar

2 tablespoons ketchup

3 cloves garlic, minced

1½ tablespoons vegetable oil

1 teaspoon chopped fresh rosemary

1 teaspoon chopped fresh thyme

½ teaspoon dried rubbed sage

1½ teaspoons coarsely ground black pepper

1 teaspoon paprika
Using a sharp knife, cut a ½-inch crosshatch pattern, ¼-inch deep, on both sides of steak.

Place in a 1 gallon ziptop bag.

Place remaining ingredients, EXCEPT black pepper and paprika, in a blender.

Process for 30 seconds and pour into ziptop bag with steak. Turn to coat steak and let sit at room temperature for 2 hours.

Turn all burners on a gas grill to high. Cover and let heat for 15 minutes.

Mix together black pepper and paprika.

Remove steak from marinade and pat dry with paper towels. Season with pepper/paprika mixture.

Place London Broil on grill. Grill for 1 minute and then flip over. Continue to flip every minute until temperature reaches 125 degrees for medium rare or 130 degrees for medium. Total cooking time should be 5 to 9 minutes.

Let rest 10 minutes before slicing.