CookingAddic You could easily prepare all the pieces to this dish (roast the butternut, make the ricotta mixture and sauté the shallots) in advance. Then all you have to do is assemble the little cups on the day of.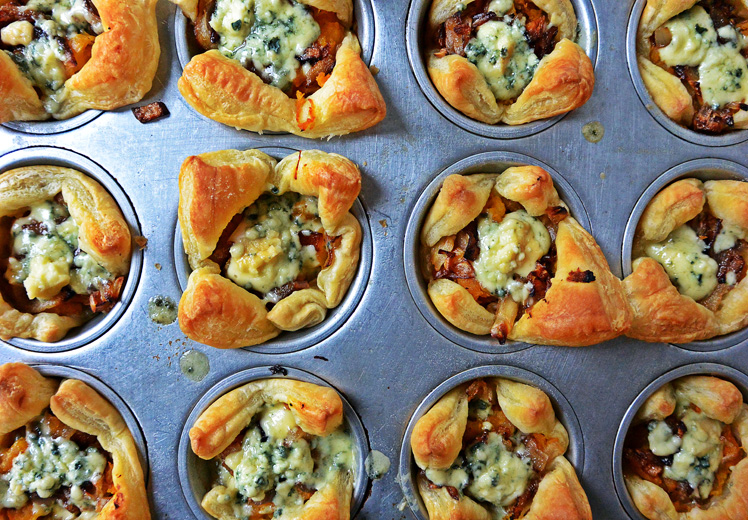 I can think of only one thing that would make these Cheesy Butternut Squash Bites
even
better: bacon of course! So if you aren't concerned about keeping these vegetarian, might I suggest some cooked, crispy bacon piled on top.
I love everything about these. The earthy roasted butternut squash. The soft and salty ricotta. The slightly sweetened shallots. The tangy blue cheese. And the hint of freshness from a few strands of basil. All surrounded by a light and buttery puff pastry shell. Who wouldn't love that? Perfect for game day. And I suspect even the meat lovers in your crowd will get on board with these hearty vegetarian bites (ahem, see last paragraph).
As fantastic as these are for a party treat, they also make for a fun way to change up your normal dinner routine. Two or three of these Cheesy Butternut Squash Bites along side a green salad makes for a satisfying meal. And I bet your kids would gobble these up too!
Ingredients
1 medium butternut squash
3 tablespoons extra-virgin olive oil
1 tsp. salt
1 tsp. pepper
1 cup ricotta cheese (I used part skim)
1 tablespoon parmesan cheese, grated
1 1/4 cups shallots, thinly sliced
1 tablespoon unsalted butter
1 package puff pastry, thawed according to package instructions
3/4 cups blue cheese crumbles
A few tablespoons fresh basil, thinly sliced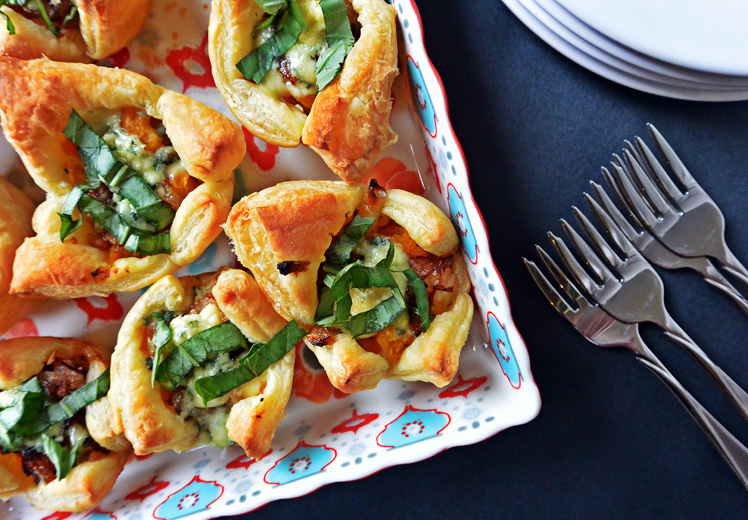 Instructions
Roast the butternut squash. Pre-heat your oven to 400 degrees. Trim the ends off the butternut squash and peel it. Cut it in half lengthwise and scrap out and discard the seeds. Place the butternut squash halves on a rimmed baking sheet. Drizzle each half with about 1 tablespoon of olive oil, turning to coat both sides. Season with 1/2 tsp. each salt and pepper. Transfer the squash to your pre-heated oven and roast for 25 minutes. Using a pair of tongs, carefully flip the squash halves and continue roasting for an additional 25-30 minutes, or until the squash is very soft. Remove the squash from the oven and allow it to cool slightly. Then mash it using a fork and set aside. Leave the oven set to 400 degrees.
Meanwhile, in a small bowl combine the ricotta, parmesan and the remaining 1/2 tsp. each salt and pepper. Set aside. In a skillet over medium heat, heat the remaining 1 tablespoon of olive oil and the butter. Add the sliced shallots and sauté until the shallots are soft and lightly browned, about 6-8 minutes. Remove from the heat and set aside.
Coat a standard 12-cup muffin tin with non-stick cooking spray. On a well floured surface, roll out each of the puff pastry sheets to create a roughly 12 X 12 inch square. From this, cut out 4 X 4 inch squares. Press one square into each cup of the muffin tin. You will have leftover puff pastry.
Once all the muffin cups are lined with puff pastry, scoop about 1 tablespoon of the ricotta mixture into each cup, dividing it evenly between the cups. Then layer the mashed butternut squash over the ricotta, placing about 1 1/2 – 2 tablespoons into each cup. Depending on the size of your butternut squash, you may have leftover squash. Top with the sautéed shallots, dividing it evenly between all 12 cups.
Transfer the muffin tin to your pre-heated oven and bake for 15 minutes. Remove the muffin tin from the oven, top each cup with blue cheese crumbles and place the tin back into the oven for 2 minutes to melt the cheese. Remove the tin from the oven and allow the Cheesy Butternut Squash Bites to cool in their pan for about 5-10 minutes. Carefully remove them from the tin and place on a serving plate. Top each with a few strips of fresh basil. Serve immediately.
Notes
1. You could certainly substitute roasted and mashed sweet potatoes for the butternut squash.
2. Goat cheese would be delicious in place of the blue cheese.