CookingAddic
This recipe for buffalo turkey meatballs is tender meatballs made with ground turkey that are tossed in a homemade chipotle sauce and served with a skinny blue cheese dip.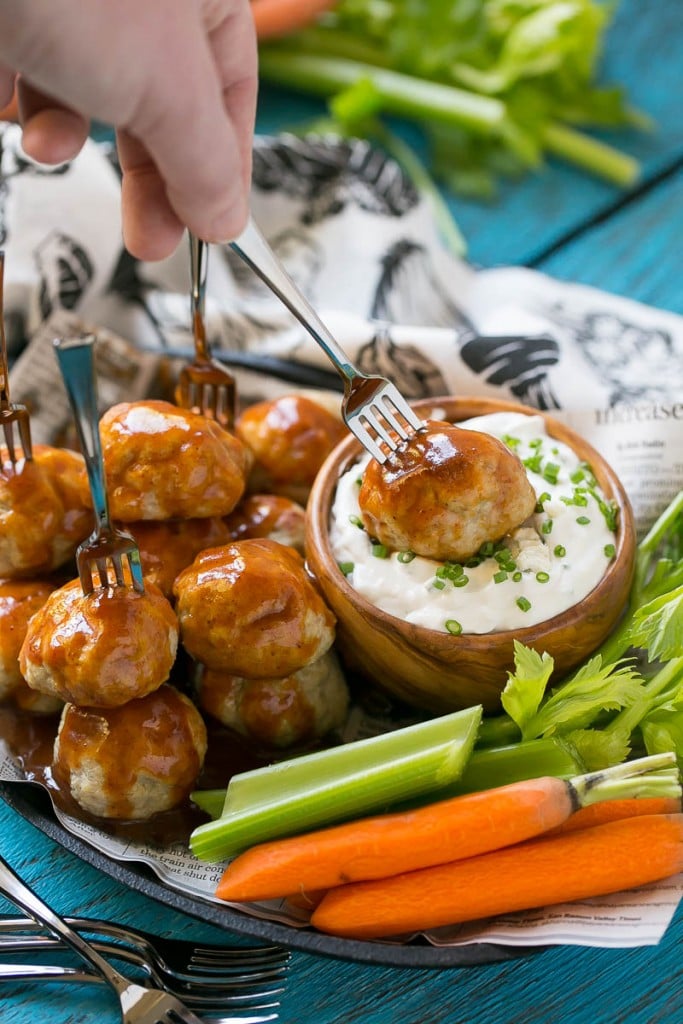 1 pound Foster Farms Organic Ground Turkey

1 egg

1 teaspoon

onion powder
1 teaspoon

kosher salt
½ teaspoon ground

black pepper
½ cup

red wine vinegar
1 cannedchipotle pepper, finely minced (remove the seeds before mincing to tone down the heat)
1 tablespoon

honey
1 tablespoon

ancho chile powder
1 tablespoon

Dijon mustard

2 tablespoons cold unsalted butter, cut into pieces

1 teaspoon

cornstarch


Blue cheese dipping sauce:
1/2 cup low or non fat greek yogurt

½ cup low fat sour cream

⅓ cup crumbled blue cheese

2 tablespoons finely chopped chives
Read more:
Preheat the broiler. Combine all of the meatball ingredients in a bowl and mix thoroughly. Using wet hands, shape the meat into balls that are 2 inches in diameter. Place the meatballs on a sheet pan that has been lined with foil and coated in cooking spray.

Broil, for 8-10 minutes or until meatballs are cooked through.

While the meatballs cook, make the sauce.

Bring the vinegar, chipotle, honey and chile powder to a simmer in a medium saucepan over medium heat. Once it reaches a simmer, remove the mixture from the heat and whisk in the mustard and butter. Place the sauce pan back on the heat and bring to a simmer. Mix the cornstarch with 1 teaspoon of cold water; add the constarch mixture to the pan. Simmer for 2-3 minutes or until sauce has slightly thickened. Season to taste with salt and pepper.

For the blue cheese sauce:

Combine all of the ingredients. Cover and refrigerate for at least 30 minutes, or up to one day. Season to taste with salt and pepper before serving.

To assemble: place the meatballs on a plate and drizzle the sauce over the top; toss gently to coat. Serve with blue cheese sauce.