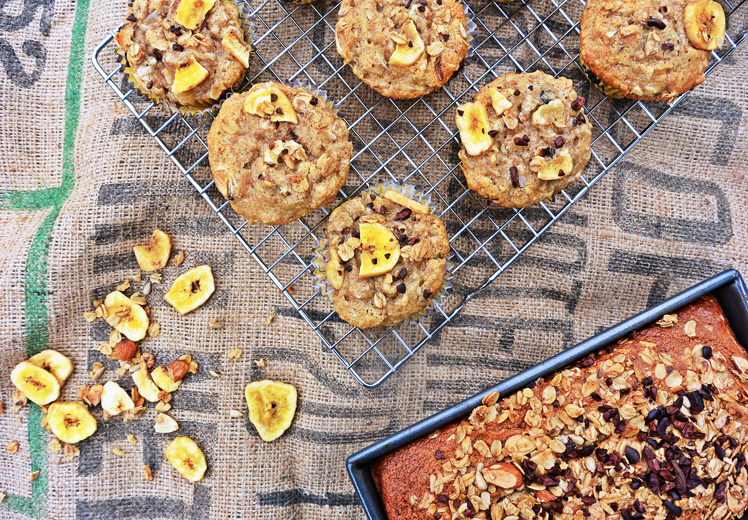 Since I like these babies for breakfast, I made them a wee bit healthier than the original recipe calls for. I replaced half of the butter with unsweetened apple sauce. And I also incorporated some whole wheat flour into the mix. And I must say, I'm pretty happy with this lightened up version. They are still tender and fluffy, but a tad bit more virtuous. So next time you find yourself with a pile of frozen bananas (just thaw them first!), give this recipe a try. Make these Banana Crunch Muffins for a special weekend treat and then enjoy them all week as a perfect grab and go breakfast on your way out the door.
2 cups all-purpose flour
1 cup whole-wheat flour
2 cups sugar
2 tsp. baking powder
1 tsp. baking soda
1/2 tsp. salt
1/2 cup (8 tablespoons) unsalted butter, melted and cooled
1/2 cup unsweetened apple sauce
2 large eggs
3/4 cup whole milk
2 tsp. vanilla extract
1 cup mashed ripe bananas (I used 3 frozen bananas, thawed)
1 cup medium-diced ripe banana (I used 1 fresh banana)
1 cup chopped walnuts
1 cup granola (any kind will do)
1 cup shredded coconut
Optional toppings: cocoa nibs, dried banana chips, granola, shredded coconut
Pre-heat your oven to 350 degrees. Line two standard muffin trays with paper liners and set aside. You can also make one dozen muffins and one standard 8 X 4 inch loaf pan. If making a loaf, spray the pan with non-stick cooking spray.
In the bowl of your stand mixer with the paddle attachment, combine the flours, sugar, baking powder, baking soda and salt. Add in the melted butter and the applesauce, mixing until just combined.
In a separate bowl combine the eggs, milk, vanilla and mashed bananas. Add this to the bowl of your stand mixer. Beat to combine, scraping down the sides of the bowl as needed. Gently fold in the diced banana, walnuts, granola and coconut.
Spoon the batter into the paper liners, filling each one to the top (I used about 1/4 cup of batter per muffin tin). If you are baking muffins and a loaf pan, fill the muffin tins first, then pour the remaining batter into your loaf pan. Sprinkle with the topping(s) of your choice. Place in your pre-heated oven and bake for 25-28 minutes for the muffins or 45-50 minutes for the loaf pan, or until a toothpick inserted into the middle comes out clean.
Remove from the oven and cool slightly (about 10-15 minutes) on a wire rack. Remove the muffins from their tray (or the bread from the loaf pan) and place on the wire rack to continue cooling. Once completely cooled, the muffins/bread can be stored in an airtight container for a couple days at room temperature.