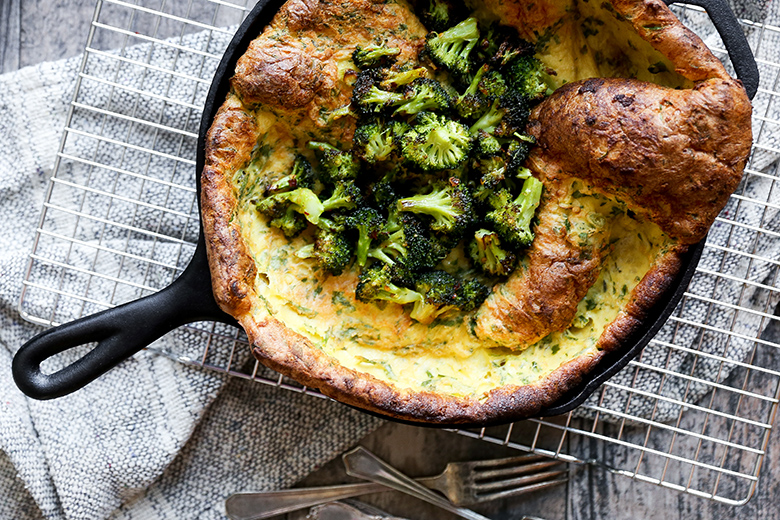 Today, we're going the savory route with a bit of Parmesan cheese, some sliced scallions, fresh herbs and a big pile of roasted broccoli. If you want, you can serve this Dutch baby with a couple of slices of bacon on the side for one heck of a satisfying breakfast. Or pair it with soup and a salad and enjoy it at lunch or dinner. Whatever you decide, just make sure you gobble it all up in one sitting, because Dutch babies are really best when eaten immediately after being made. But I have a feeling you'll have no trouble accomplishing that task.
For the Dutch Baby
4 eggs
1/2 cup whole milk
1/2 cup all-purpose flour
2 tablespoons grated Parmesan cheese
1 scallion, white and light green parts thinly sliced
2 tablespoons fresh parsley, roughly chopped
1 tsp. fresh thyme leaves
1/8 tsp. salt
1/8 tsp. black pepper
4 tablespoons unsalted butter


For the Broccoli
3 cups broccoli florets
3 tablespoons extra-virgin olive oil
1/2 tsp. salt
1/2 tsp. red pepper flakes
Zest and juice from 1/2 lemon
Make the Dutch baby. Pre-heat your oven to 425 degrees. In the bowl of your stand mixer with the whisk attachment, combine the eggs and milk. Add the flour and whisk until incorporated, scrapping down the sides of the bowl as necessary. Then whisk in the Parmesan cheese, sliced scallions, parsley, thyme, salt and black pepper. Set aside.
Meanwhile, melt the butter in a 10-inch cast iron skillet over medium heat. Once the butter is melted and the skillet is hot, pour in the batter. Carefully transfer the skillet to your pre-heated oven and bake for 25 minutes. The Dutch baby will puff up during cooking, but once it's removed from the oven and starts to cool it will deflate slightly.
Meanwhile, roast the broccoli. In a medium bowl, toss the broccoli florets with the olive oil, salt and red pepper flakes. Spread the broccoli out onto a large rimmed baking sheet. Transfer to your pre-heated oven and roast for 15 minutes. Remove from the oven and sprinkle the lemon zest and juice over the roasted broccoli.
To finish, top the Dutch baby with the roasted broccoli. Slice and serve immediately.