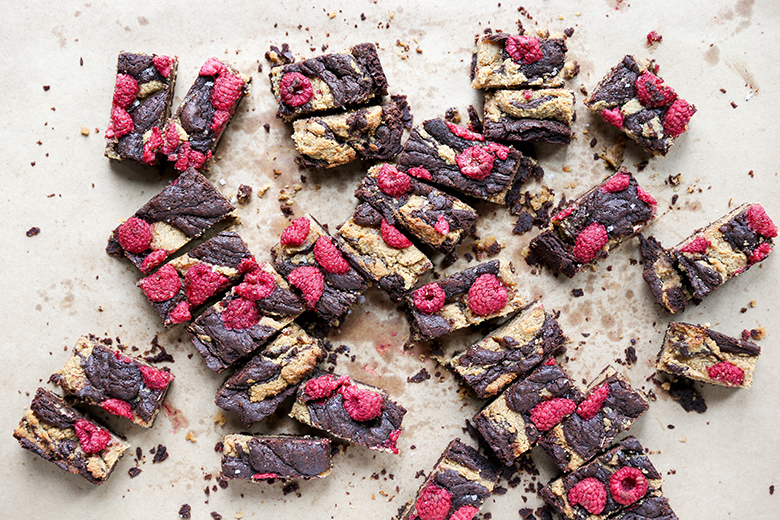 Ingredients
For the Peanut Butter Layer
1 cup creamy peanut butter
4 tablespoons unsalted butter, softened at room temperature
1/2 cup powdered sugar
1/2 tsp. vanilla extract
1/4 tsp. salt


For the Brownie Layer
6 tablespoons unsalted butter
7 ounces semi-sweet or bittersweet chocolate, chopped
2/3 cups sugar
2 eggs
2 tablespoons bourbon
1 tsp. vanilla extract
1/2 cup plus 1 tablespoon all-purpose flour
2 tablespoons unsweetened cocoa powder
1/4 tsp. salt


For Topping
1 cup fresh raspberries
Pre-heat your oven to 350 degrees. Line a 9 X 9-inch baking pan with parchment paper or aluminum foil, leaving a couples of inches overhanging around the sides. Lightly spray the parchment paper/foil with non-stick spray and set it aside.
Make the peanut butter layer. Using your hand mixer, cream together the peanut butter, butter, powdered sugar, vanilla extra and salt in a medium bowl until smooth. Set aside.
Make the brownie layer. In a saucepan over medium heat, melt the butter. Turn the heat down to low and whisk in about half of the chopped chocolate. Once it's melted, remove the saucepan from the heat. Whisk in the sugar. Then whisk in the eggs, bourbon and vanilla extract. Whisk in the flour, cocoa powder and salt. The batter may appear grainy at first, but it will become smooth as you continue to whisk it. Stir in the remaining chopped chocolate.
Pour about 3/4 of the brownie batter into your prepared baking pan, spreading it evenly. Then spread all of the peanut butter batter evenly over top of the brownie batter. Dollop the remaining brownie batter on top of the peanut butter layer. Then drag the tip of a knife through the two batters to create a swirly pattern. Scatter the raspberries on top.
Transfer the brownies to your pre-heated oven and bake for 40 minutes, rotating the pan once half way through baking. Remove from the oven and set aside to cool completely.
Once the brownies have cooled, lift them out of the pan using the overhanging parchment paper/foil. Cut into squares.
The brownies can be stored in an airtight container at room temperature for up to 2 days.