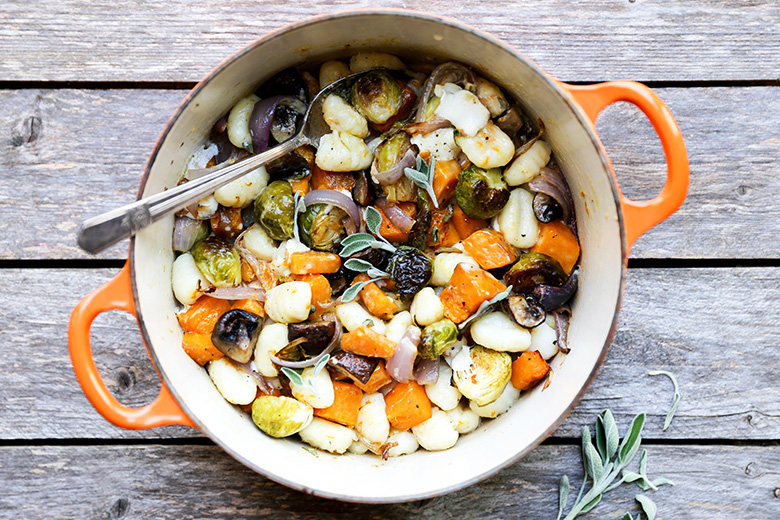 2 cups peeled and cubed butternut squash
1 1/2 cups brussels sprouts, halved
1 1/2 cups button mushrooms, quartered
1/2 red onion, peeled and sliced into wedges
3 tablespoons extra-virgin olive oil
3/4 tsp. salt, divided
3/4 tsp. black pepper, divided
1 lb package store-bought gnocchi
1/2 cup heavy cream
1 1/2 tablespoons fresh sage leaves, chopped
1 tablespoon grated Parmesan cheese
3 ounces fresh mozzarella cheese, torn into pieces
Pre-heat your oven to 425 degrees. In a large rimmed baking pan, toss together the butternut squash, brussels sprouts, mushrooms and sliced red onion with the olive oil and 1/2 tsp. each of the salt and black pepper. Transfer the baking pan to your pre-heated oven and roast the vegetables for 20 minutes, stirring once half way through the cooking time. Remove and set aside. Leave your oven set to 425 degrees.
While the vegetables are roasting, bring some water to a boil in an oven-proof pot. Add the gnocchi and cook it according to the package instructions. Drain and set aside.
Using the same pot you used to cook the gnocchi, combine and warm the cream, sage leaves, Parmesan cheese and the remaining 1/4 tsp. each of the salt and black pepper over medium heat until the sage smells fragrant, about 2 minutes. Don't let the cream come to a boil. Add the cooked gnocchi, roasted vegetables and mozzarella cheese, stirring to combine. Then transfer the pot to your oven and cook for 5 and additional minutes.
Remove the pot from your oven and allow the gnocchi to rest for about 3-5 minutes before serving. Garnish with additional fresh sage leaves, if desired.
Leftovers can be stored in an airtight container in your refrigerator for 1-2 days.
Notes
1. If you don't have an oven-proof pot, you can transfer everything to a baking dish before warming it in your oven.